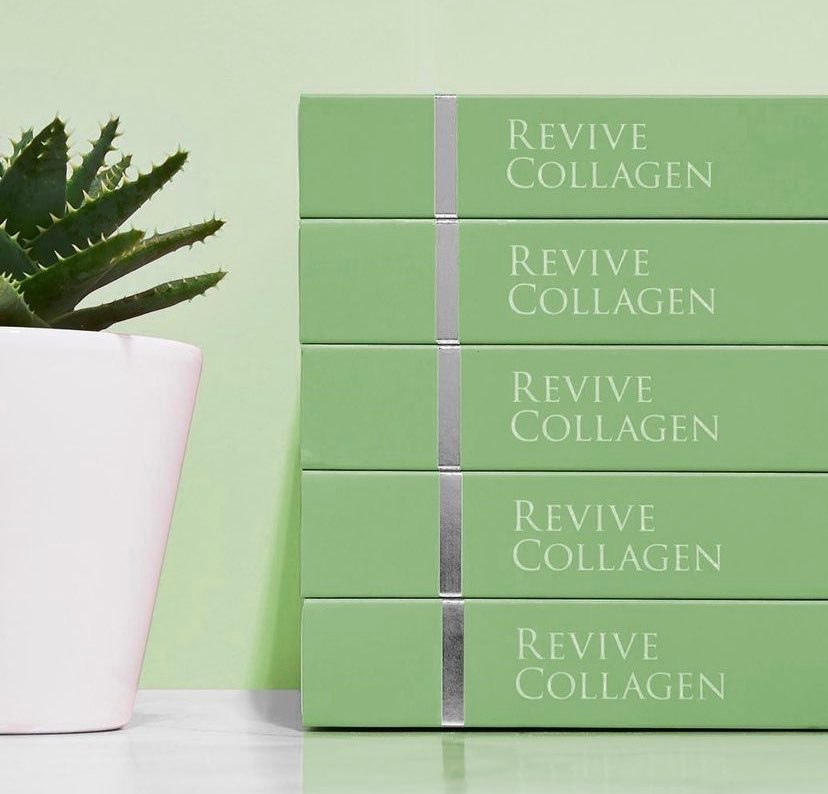 3 Benefits Of Taking Liquid Vegan Collagen
With the launch of our product, Revive Collagen Vegan - a liquid vegan collagen alternative, we're also determined to answer as many of your questions as possible. As it's a brand new product that isn't available anywhere else, we can imagine you're interested in the ingredients, benefits and specifics about vegan collagen. Whether you're vegan or vegetarian yourself or you simply prefer using a plant based collagen supplement, we'll run you through all the benefits of liquid vegan collagen in this article.
Benefits Of Vegan Collagen
Before we dive deeper into the benefits of vegan collagen and how it can help your skin, it's good to know that the results of Revive Collagen Vegan's collagen formulas are backed by over 70 independent studies and clinical trials. We have picked the three key benefits of vegan collagen to introduce you to this world- first, wonderful product. 
1. Suitable For Vegans & Vegetarians 
The first benefits might be obvious, but it's still a big deal. Anyone following a vegan or vegetarian diet has not been able to take any liquid collagen supplements, up until now. Revive Collagen Vegan allows people on a plant based diet to enjoy the benefits of liquid collagen, without having to compromise on efficiency and lifestyle choices. A question we get asked often is 'what is vegan collagen made from?' 
The truth is that the ingredients utilise amino acids and ground-breaking fermentation and bioactive molecules from medicinal plants to induce the synthesis of new collagen. Powerful inductors, including Vitamin C, Ginseng and Asiaticoside, are responsible for stimulating the fibroblasts in the body to make optimal use of the collagen. Revive Collagen Vegan is highly absorbable in the body and bypasses digestion - its molecules are up to 100 times smaller than those in animal collagen. 
The product contains a vegan alternative (VeCollal) to collagen which identically mimics human type 1 collagen, meaning it is hugely effective!e. It also contains vegan sources Retinol, Vitamin B6, C & E, as well as Panax Ginseng.
2. Boosts Your Collagen Production
The main reason to start taking collagen supplements is to boost collagen production. From our late twenties, our body's natural collagen production starts slowing down which eventually results in a loss in elasticity and firmness in the skin. This is why, when you're getting older, your skin starts to form lines and wrinkles, especially around your eyes and mouth. 
This is part of the natural process of getting older, but it's possible to reduce and postpone the signs of ageing by taking collagen supplements. Revive Collagen Vegan has proven to boost collagen production by 137.97% (in vitro). Results of the clinical trials showed that after only two days, collagen production in the fibroblasts more than doubled after taking Revive Collagen's vegan liquid collagen.
A recent human clinical trial consisting of 18 adult subjects, aged 25-65 years old boasted great results in just 4 weeks on collagen density, wrinkles, skin hydration, roughness and redness:
80-90% had improvements to their skin

13.9% increase in collagen density

14.1% reduction in wrinkles
*Results from human clinical trial (August 2022) on Revive Collagen Vegan's collagen formula (VeCollal) consisting of 18 men and women aged 25-65
**Measurements performed using pioneering skin technology including a VISIA Complexion Analysis System and Corneometer CM825
There's no doubt that the vegan collagen drink is highly effective, so why don't you give it a try?
3. It's Great For Skin, Hair & Nails
Now that we know vegan collagen is great for increasing collagen production, you'll be pleased to know that it may also have great benefits for your overall skin health, hair and nails. As Revive Collagen Vegan contains Vitamin C, it will also further help to brighten your skin's complexion, giving your skin a healthy glow. Vitamin B6 helps to reduce tiredness and fatigue, whilst Vitamin E contributes to the protection of cells from oxidative stress.
Did you know that taking liquid collagen supplements can also improve your hair and nail growth? Vitamin B7 (Biotin) is a key ingredient in Revive Collagen Vegan, and stimulates keratin production which leads to stronger, healthier-looking hair, and nails too. In just four to eight weeks, you can help to transform your skin, hair and nails by using Revive Collagen Vegan. 
So, say hello to THE most effective solution to beauty enthusiasts, vegans and those looking to make more sustainable beauty choices that don't compromise on quality or results.