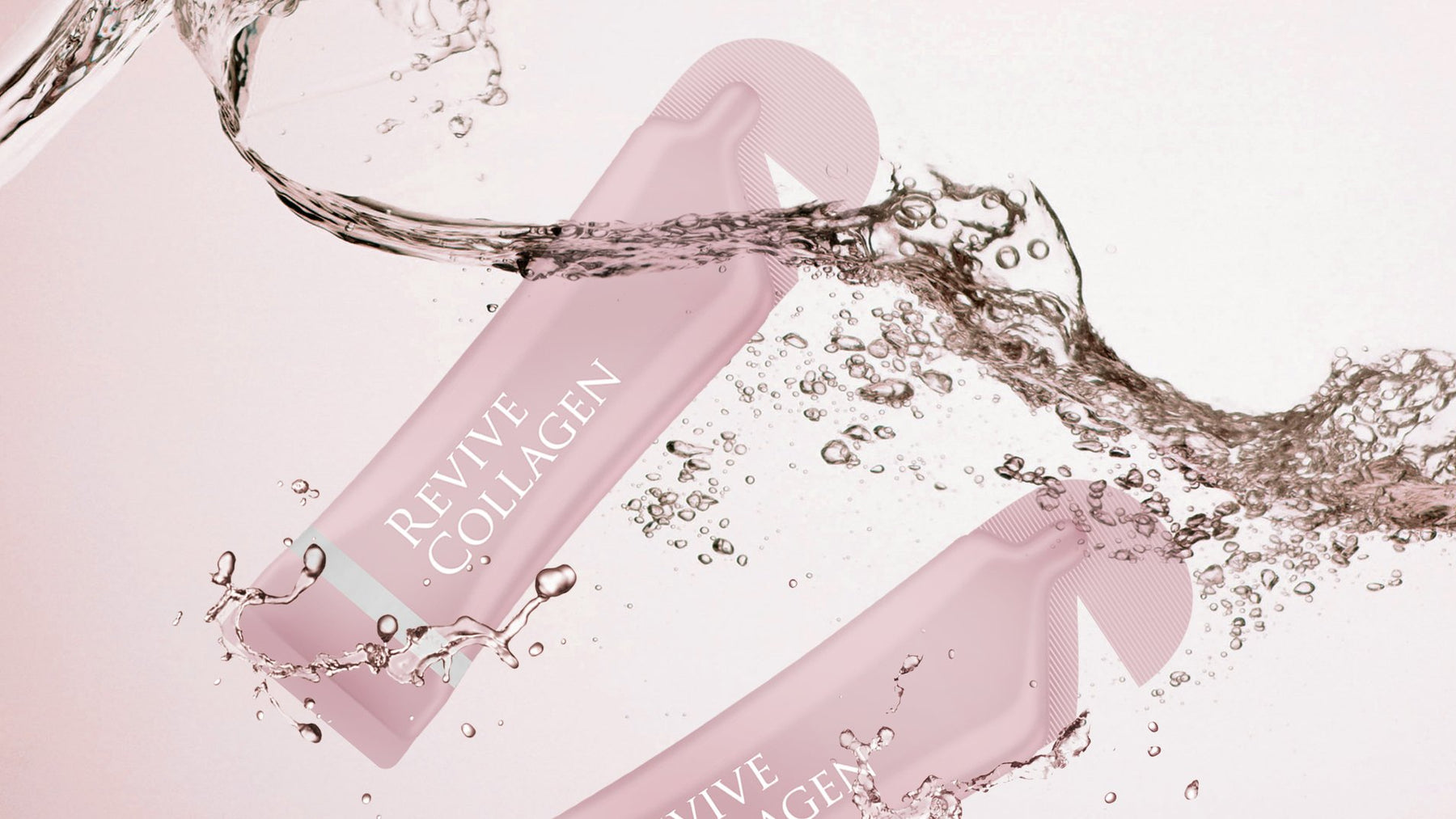 How Can You Increase Your Collagen Over The Age Of 40
Having radiant skin is possible at all ages and as we get older, we can look to using supplements that we can put in place which will help us achieve this goal. Our skin begins to lose elasticity from the age of just 25. With our production of collagen slowing down, we may find that more fine lines and wrinkles begin to appear. Our skin becomes less likely to 'bounce back', which is why we may need added supplements to keep it healthy and to maintain that glowing appearance. 
Let's look at how you can include Revive Collagen, a unique marine liquid collagen into your daily routine from the age of 25. We will also explain when to start using a supplement and how often to take it. 
How Can You Increase Your Collagen Over 40?
Ageing is a natural process we all go through. During this process, we stop producing as much collagen, meaning our skin can become less radiant than before. Of course, there are many ways to feed your skin from the inside out.  
Eating a diet rich in all the best nutrients such as vitamin A and C, will not only increase your collagen production, but also aid in the overall healthiness of your skin, hair and nails. These vitamins are essential when it comes to your connective tissues' healing process.
In addition to making a healthy diet a staple in your everyday routine, following a daily skin care regime which includes sunscreen is also extremely beneficial in terms of your collagen production. Avoiding UV rays by staying out of the sun for extended periods of time will prevent your skin from being dehydrated and damaged. 
You can also supplement your depleting collagen production with a liquid supplement. By adding Revive Collagen into your daily routine either as a shot straight from the sachet or into your daily beverages, such as your morning cup of coffee or glass of water this can help boost your body's collagen levels. By stimulating the natural creation of collagen and hyaluronic acid within our bodies, Revive Collagen addresses the structural decline of the skin and other natural bodily changes. 
When Should You Take Your Collagen Supplements?
Revive Collagen Liquid Marine Collagen can be taken at any time of the day that suits you. When it comes to your daily routine, we suggest taking it in the morning  and this will allow it to work throughout the day. For example, a quick shot before you hit the shower or putting a sachet into your morning cup of coffee could work the best for you. Or even, adding one to your glass of water throughout the day, could remind you to stay hydrated which is another key factor that goes into keeping your skin radiant. Just drinking one sachet a day allows your collagen levels to increase. 
When To Start Taking Collagen 
A question we get asked frequently here at Revive Collagen, is at what age you should begin taking collagen supplements. From our early twenties, our collagen production rates begin to slow down at a rate of 1.5% a year. Which typically means that by the age of sixty many women will have lost 80% of their collagen levels. This process is extremely natural and every single person goes through it as they age. 
Celebrating the aging process is extremely important and we feel it's vital to aid our bodies in giving them what they need as they get older. Whilst collagen can be helpful at any age from around 25 years old, we also understand that everyone is different. Typically, we recommend that collagen is supplemented in the early twenties. With many of us having such demanding lifestyles nowadays, we may find that environmental aggressors can be taking a toll on our appearance. To simply enhance our already glowing and radiant skin, we suggest taking our Liquid Marine Collagen daily. 
How Much Collagen Is The Correct Amount To Take?
One serving of collagen has 8500 MG of Type 1 Hydrolysed Marine Collagen or try Revive Collagen Enhanced Plus with its 10,000mgs of marine collagen with added Retinol, Vitamins and Keratin.  Our liquid collagen has a unique formula that has been developed in our UK laboratory and therefore have been specifically developed to deliver optimal results for our customers. 
In every box of Revive Collagen and our Revive Collagen Enhanced Plus, you will find fourteen ready to drink sachets, which you can consume daily. If you're looking to buy in bulk this winter, you can also get your hands on our Duo Packs, which have a 28 day supply. Not to mention, they all have a great tasting citrus flavour! Revive Collagen is created with 100% natural ingredients and is  flavoured with Stevia, to give it a slightly sweeter taste.
Our amazing ambassador, Amanda Holden says that "Collagen products have been a go-to beauty essential for many years. When I discovered Revive Collagen I was blown away by the quality of their product and their sustainability credentials. I take the Revive Collagen sachets on the go daily. I'll normally pop one into my coffee while getting ready for my early mornings on Heart Breakfast. The product is natural and great tasting and the fact that it also contains vitamins B6, B12, C and D means I don't need to worry about taking any additional supplements."