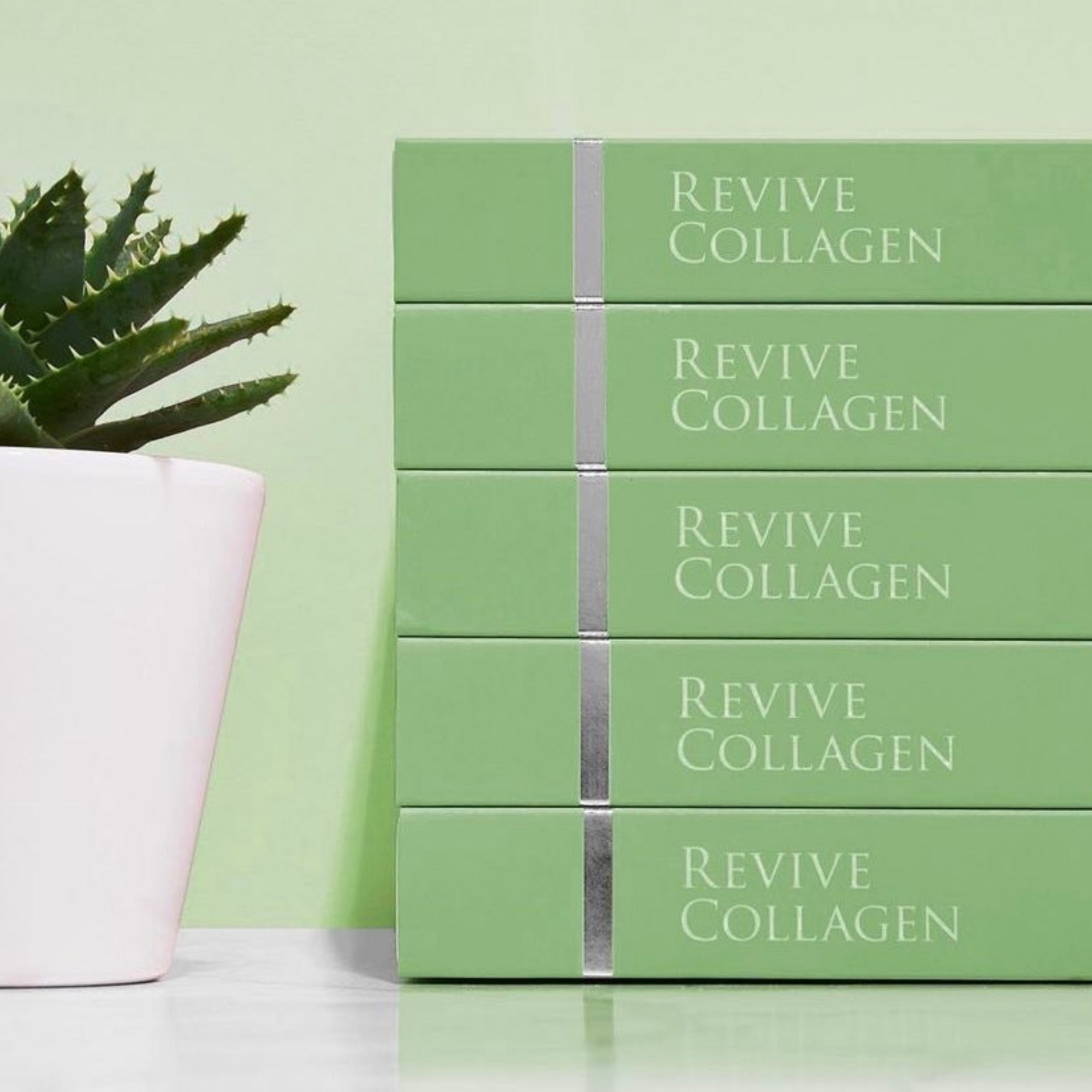 Veganuary: Is There a Vegan Version Of Liquid Collagen?
Happy 2023! Are you trying 'Veganuary' this year? If so, don't forget to switch up your supplements too! Going green for your beauty regime isn't as hard as it sounds, and you certainly don't need to worry about compromising on efficacy either - especially when it comes to Revive Collagen Vegan. 
In this article, we will be taking a closer look at vegan liquid collagen, what it's made from, what is included in our plant-based product, and what benefits you can be taking into 2023 if you start using it this January. 
What Is Vegan-friendly Collagen?
For all our beauty enthusiasts looking to try out a new trend or adapt their lifestyle in 2023 to be more vegan-friendly, adopting a vegan collagen alternative might be for you. Typically, collagen can come from two sources, marine or bovine. Marine collagen, as the name suggests, is made from marine life such as fish. The skin of the fish, which is often deemed as 'waste', holds plenty of collagen and can be utilised in liquid collagen products.  Bovine, on the other hand, comes from pig or cow skin.
So, where does vegan collagen come from? Collagen peptides come only from animal sources, which of course, deem these beauty products, not 'vegan-friendly'. Therefore, any vegan collagen supplements will usually contain a handful of plant-based, skin-boosting ingredients and amino acids meaning they are non-identical to human collagen and unable to trigger collagen production in the body to the same level. However, that was only true until we introduced Revive Collagen Vegan a few months ago!
Our vegan collagen supplement is truly the first of its kind. It has a plant-based compound present that identically mimics human type 1 collagen, which is the most common strain of collagen present in our bodies. This compound also has an identical amino acid profile of the hair, skin, and nails, which means it can replicate the same results as an animal-based alternative. Amazing, right?
What is in Revive Vegan Collagen?
Revive Collagen Vegan's ingredients contain powerful inductors, including Vitamin C, Ginseng, and Asiaticoside, which are responsible for stimulating the fibroblasts in the body to make optimal use of the perfect supply of collagen amino acids, ensuring it is used in the best way.
In addition to the vegan collagen formula (VeCollal), we have also included many other beneficial ingredients. Vitamins are vital when it comes to your health and beauty (vegans can also struggle to get enough vitamins from their diets)  which is why we are passionate about including them in our products.  You no longer need to worry about remembering to take multiple vitamin tablets each day alongside your other supplements - our liquid collagen is an on-to-go solution to all your beauty and wellness concerns.
Revive Collagen Vegan also includes:
Panax Ginseng - Renowned for antioxidant & anti-inflammatory properties

Retinol (Vitamin A) – Helps promote skin renewal and enhances collagen production, leaving skin brighter and more youthful looking

Vitamin B6 - Helps to reduce tiredness and fatigue and contributes to the normal function of the nervous system, psychological function, and normal red blood cell formation as a function of the immune system

Vitamin B7 (Biotin) - Helps to stimulate keratin production and promotes healthy hair. Contributes to the maintenance of normal hair and skin, plus the normal functioning of the nervous system

Vitamins C & D - 100% of RDA of Vitamin C. Both offer antioxidant properties as well as visibly brighten the skin tone and reduce

signs of ageing

. Contributes to the normal collagen formation for the normal function of the skin

Vitamin E - Contributes to the protection of cells from oxidative stress
3 Benefits Of Switching To Vegan Liquid Collagen
1. Good For Your Skin, Good For The Planet
If your Veganuary goal is not only to change your food habits, but also, to ensure that every beauty product you have on your shelf is both kind to the planet, and your skin, then look no further. With our liquid vegan collagen being 100% plant-based, switching out your regular marine collagen supplement with a vegan one could be a great way to welcome Veganuary this year. 
2. Healthy Habits For 2023
Veganuary is all about giving back to the planet - which can be done in small, simple ways which you can incorporate into your daily routine. However, another benefit of completing Veganuary this year is that you could gain some healthy habits as well.
Did you know that on average, it takes 2 months before a new behaviour becomes automatic? If you make taking a vegan supplement your goal this year, then by finishing Veganuary, you could be halfway towards making this a new, healthy change to your lifestyle. 
3. Boosting Your Natural Collagen The Vegan Way
Finally, adding a vegan collagen supplement to your beauty regime can boost your natural collagen production - did you know it's clinically proven to reduce wrinkles and increase collagen density and hydration in the skin in just 4 weeks?
From our late twenties, our body's natural collagen production starts slowing down which eventually results in a loss in elasticity and firmness in the skin. This can result in our skin starting to form lines and wrinkles, especially around our eyes and mouth. In 2023, why not give back to your skin, and give your body the natural boost it needs.